So want to import a Japanese vehicle to make into your dream campervan? Something like a Mitsubishi Delica, Nissan Elgrand, or Toyota Alphard?
Then let us demystify the process for you. Welcome to the wonderful world of Japanese grey imports!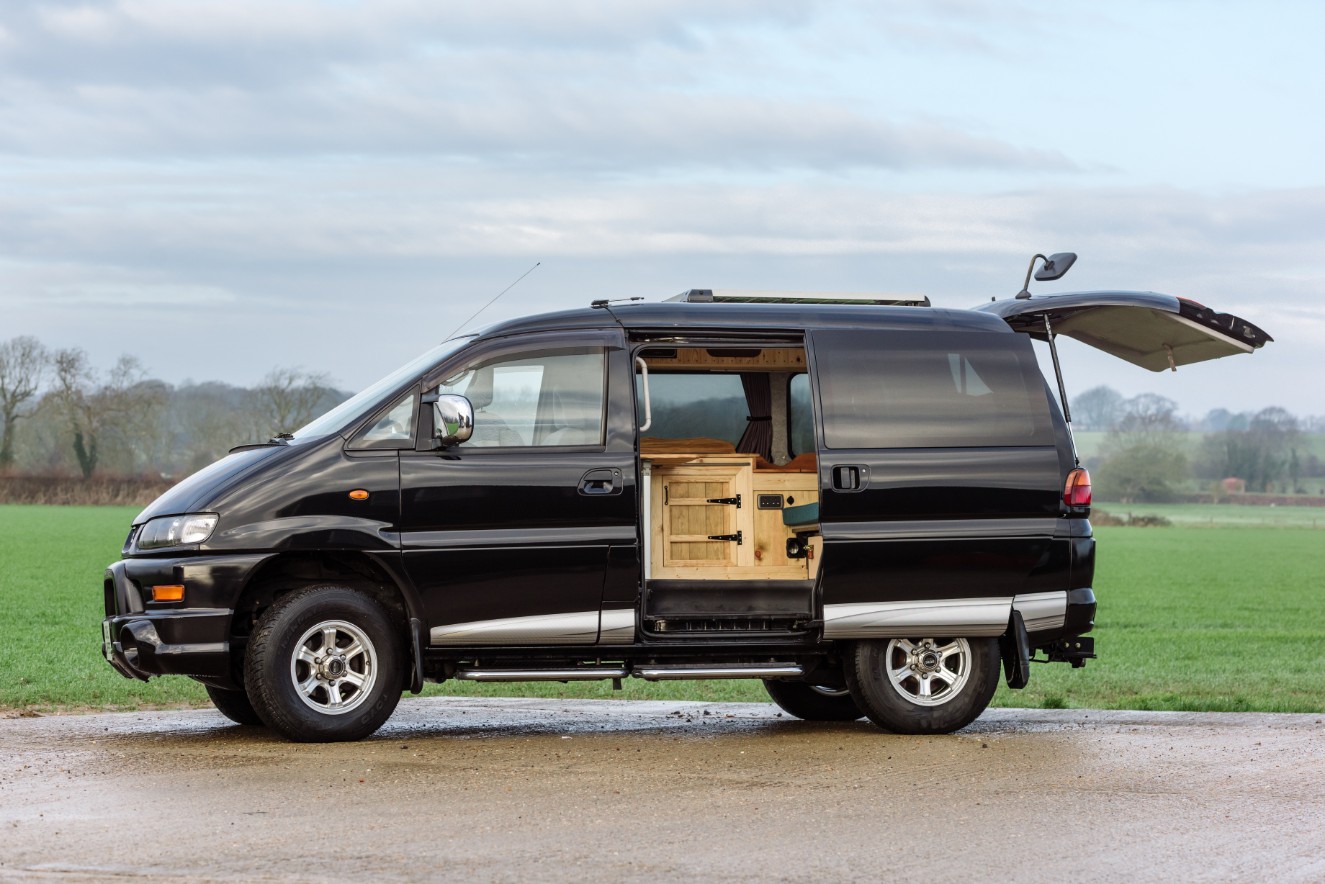 Japanese vehicles can make excellent base vehicles for campervans, such as our wonderful Mitsubishi Delica campers (See the Islay or Atlantis), and have the added bonus (for some) of having petrol engines. The Japanese make excellent cars, and in general vehicles are kept in far better condition than other cars of an equivalent age.
There are lots of areas to cover in order to fully help people navigate the Japanese import system. For now we will cover the various stages and costs involved, between buying a vehicle in Japan and getting it on the road in the UK. This should equip you with some good background knowledge if you are looking to buy a Japanese imported vehicle in the UK.
What type of vehicles are likely to be imported?
Most Japanese grey import vehicles in the UK have originally been bought at auction in Japan. The Japanese auction system is highly regulated. Each vehicle is inspected and a sheet is produced giving it a grading, and noting any obvious scratches or dents. In the absence of a service history, the auction sheet is usually all you have in terms of objective assessment of a vehicle, so it's quite important!
Salesmen of Japanese imports in the UK often make a big deal of displaying specialist knowledge.
As with all interactions in the used car world, all you can do is douse everything you find with a liberal pinch of salt, trust your instinct, and judge a vehicle only on what you can see before you on solid ground in the UK, the reputation of the seller, and the strength of any warranties provided. The AA have some good advice about buying vehicles from Japan If you are tempted to part company with any cash in advance of a vehicle hitting UK shores and being registered on UK roads, first and foremost, make sure you are dealing with a reputable agent. Unless you are knowingly taking on risk in exchange for a financial discount, you must ensure that you have cast iron promises as to the spec, quality, and time of delivery, of the vehicle you are buying.
Buying a van – the Love Campers Way
We see a vehicle we like in an auction coming up in a couple of days. The auction sheet looks pretty straightforward and there's nothing concerning about this vehicle. We instruct an agent in Japan to bid on the vehicle. Auction portals will normally give an indication of the price of previous similar sales, so we can put in a realistic bid.
Hurrah! We've had a bid of 700,000 Yen accepted for a lovely van! What next? The full price of the vehicle will need to be paid to the agent within a few days. Other costs you need to factor in on the Japan side include: agent's fees, transfer to the boat for shipping, and Japanese export tax. Together these costs should amount to somewhere between 100,000 and 200,000 Yen, although very expensive or large vehicles could cost more.
Your vehicle will then be loaded onto a ship to be brought to the UK. This usually takes around 10-12 weeks. Upon arrival, there is a fair bit of paperwork to do, and most people use an import agent for this. This should cost around £200-£250. You will then need to pay the shipping costs of around £1500 in order to have the vehicle released.
10% import tax on the entire sum paid for the vehicle, including shipping, is immediately due, and then a further 20% VAT charge of the total plus the 10% import tax, is also immediately due.
You will then need to pay for the vehicle to be transported from the docks to wherever you are. Obviously the cost of this depends on the size of vehicle and the distance to be travelled. Let's put that cost at somewhere in the region of £200-£300.
Finally, you will need to pay to get your vehicle on the road. For a vehicle over 10 years old, which most Japanese imports are, as well as the cost of the MOT, you will definitely need to install a fog-light, you should change the battery, and hopefully nothing else!
What to budget for…
You need to include in your budget for purchasing a vehicle at a Japanese Auction for UK import:
Agents fees
Transfer to boat for shipping
Japanese expert tax
UK import agent fees
Shipping costs
10% import tax
20% VAT
Transport to final destination
UK road tax
Installation of fog light
I hope this has helped to demystify some of the process and equip you with the information you need as you navigate the world of Japanese import vehicles!
---
Thanks for reading the post! Please read the latest posts in the same category below:
Follow us on our Facebook and Instagram accounts for our latest news and posts!