We're proud to have been listed as one of Van Clan's Top Ten Micro Camper Convertors.
Sometimes referred to as car-derived vans or camper-cars, these small campers are an excellent choice for adventurous spirits who hope to have frequent short breaks away.
The small vans we convert include the VW Caddy, VW Caddy Maxi, Nissan NV200 and the E-NV200.
VW Caddy Maxi Design
Our classic micro camper conversion and comes with a poptop roof, four belted seats and up to two double sleeping berths.
This conversion offers everything you could have in a larger conversion, including an extra-wide bed.
VW Caddy Maxi Design
This micro camper conversion of a VW Caddy Maxi has an amazing five belted seats. It comes with a poptop roof and can sleep up to four in two double sleeping berths.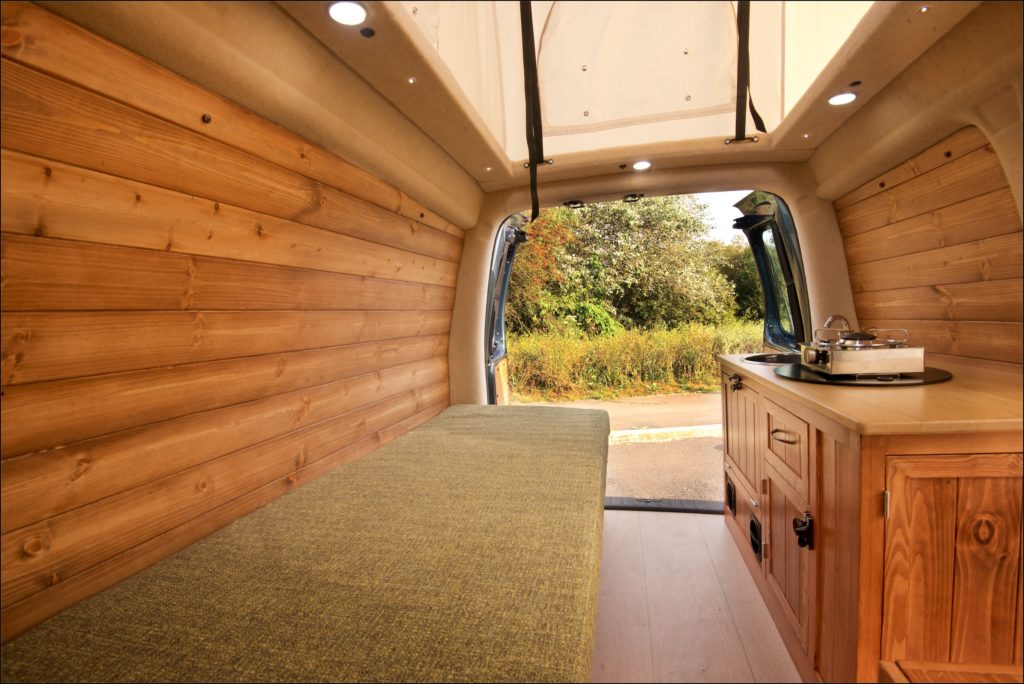 Small camper design
A short wheel base, small campervan design.
Our 1-2 Berth in the Chamonix design packs a complete camper into a short wheel base.
Small camper design
A 2 berth micro camper conversion.
The use of wooden cladding inside this two berth micro camper brings you closer to nature and will keep you warm and toasty.
Micro Camper Designs
Over the years our micro camper conversions have become the most popular choice of conversion that we offer, due to their practicality, functionality and affordability.
Our micro campers are ingeniously designed to fit plenty of mod cons into a small space. The designs we've created include a hob burner, sink, and compressor fridge so that you can easily cook while you're on the move, in the same way that you would do with a larger campervan.
Not sure if a micro camper is for you? Check our our blog post 11 Reasons to choose a Micro Camper.
| Design | Base Vehicle | Berth | Belted Seats | Pop-top |
| --- | --- | --- | --- | --- |
| Mandalay | VW Caddy Maxi | 4 | 4 | Yes |
| Zanzibar | VW Caddy Maxi | 4 | 5 | Yes |
| Chamonix | VW Caddy, NV200 | 2 | 2 | No |
| Islay | VW Caddy, NV200 | 2 | 4 | No |
Your van interior will include:
Carpet lining in a range of colours
Flooring by Forbo
Upholstery fabric in a range of styles
Black out curtains in a range of colours
Solid wooden furniture and worktops fitted by skilled carpenters
If you sign up to our build-to order queue we will send over details on the entire range of choices so you can make an informed decision. Find out more about the campervan interior options that would be available to you on our finishes page. Check out all the different types of wood finish we offer on the blog.