Did you know that at Love Campers, we're experts at converting small vans into Micro Campers? If you're looking for all the functionality of a larger campervan such as a VW Transporter, but want something that's a bit more 'nippy' and easy to travel around in, then a Micro Campervan conversion could be the perfect option for you.
Sometimes referred to as a car-derived vans, these small campers are an excellent choice for adventurous spirits who hope to have frequent short breaks away in their campervan. They're a great choice if you want to travel around the UK this year, while the option of venturing abroad is unavailable to us. We particularly love converting the VW Caddy and VW Caddy Maxi as we've created some ingenious space-saving designs for these two models.
Similarly to the tiny house movement, owning a small campervan is all about getting back to basics and making the most of nature. If spending a lot of time inside your van is more your thing, then they might not be the right choice for you, but if you love the great outdoors and are often impulsive with your travel plans, then a smaller campervan is a wonderful way to leap into your next adventure.
What are the benefits of a Micro Camper Van?
Over the years our micro camper conversions have become the most popular choice of conversion that we offer, due to their practicality, functionality and affordability.
Our top reasons for choosing a Micro Camper
Micro Camper base vehicles tend to be more affordable due to their small size.


'Car-derived' micro campers are usually extremely reliable compared with bigger bulkier vans.


Of course, they are far lighter than bigger vans which makes them much easier to drive and great for getting onto ferries and into other countries!


They're often a lot shorter than bigger vans which means you won't run into so many problems when it comes to tunnels and car parks!


They are much easier to park compared with larger vans, and can often sit on a driveway or pavement in front of your home with little to no problem.


They're great for smaller roads which makes them perfect for going off the beaten track!


Compared to larger vans the running costs are usually a lot lower.


They are great for frequent breaks, making them a great option if you want to be spontaneous and take advantage of a sunny British weekend when it happens!


They are useful for stealthier parking spots if you're likely to be exploring cities.


Micro Campervans are a great choice for 'outdoorsy' people! If the campervan lifestyle appeals to you because you love being outside in nature then a micro campervan is an excellent option.


Last but not least, micro campers are extremely multi-functional. You can use them for grabbing a quick adventure in the countryside, nipping to the supermarket, or taking the kids to school. It means you could use one as the sole vehicle you own.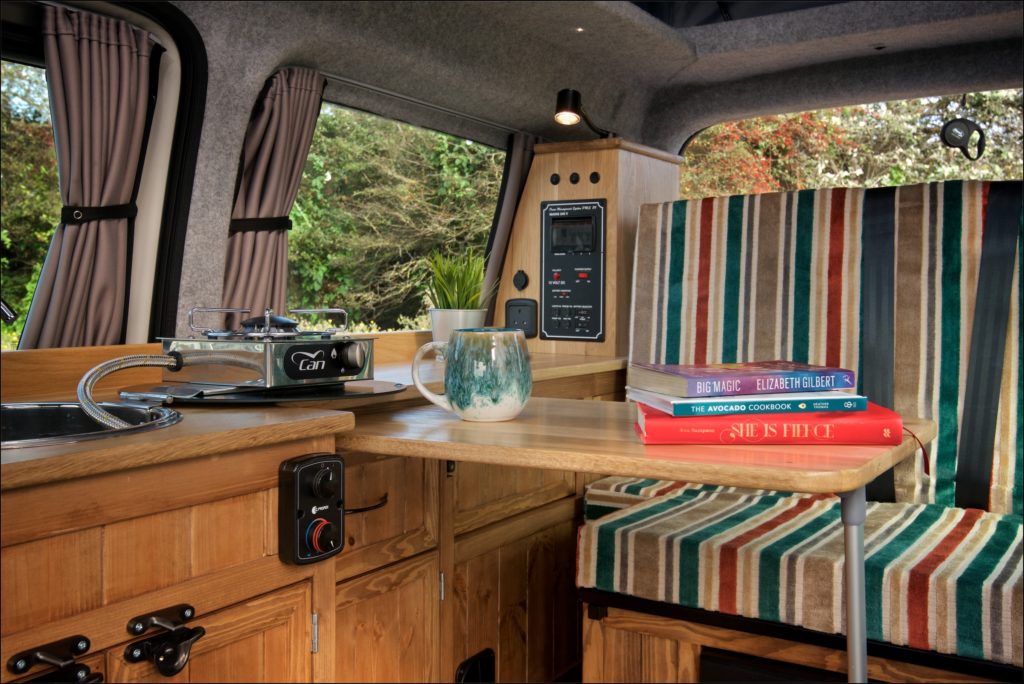 Small Campers with Big Functionality!
Our micro campers are ingeniously designed to fit plenty of mod cons into a small space. The designs we've created include a hob burner, sink, and compressor fridge so that you can easily cook while you're on the move, in the same way that you would do with a larger campervan. 
Our Love Campers designs can even include an extra-wide bed which folds away so you'll always get a good night sleep, whether you're on your own or sharing a bed.
In fact, across our Micro Camper range, there are plenty of berth options to choose from depending on the type of base vehicle you choose. You can sleep from one to four people (or even five, if one of them is a small child!)
We also fit pop-top roofs into many of our small van conversions which makes them feel much bigger at the drop of a hat!
At Love Campers we fit our small conversions with flexi and spot lighting, USB & plug sockets, 240v hook-up, and a removable table.
We find that all these amenities have made our micro campers the perfect home-office on wheels, which means that if you work from a laptop you could easily nip to the countryside on your lunch break!
Feeling inspired? The photos below are of our small van conversion design styles.
The fabulous VW Caddy as a Micro Campervan
Our customer's most popular choice of micro campervan vehicle tends to be the VW Caddy. VW Caddy's are cheap to buy as well as being extremely reliable and easy to drive.
We've developed designs for both the VW Caddy, which is the short wheelbase, and the VW Caddy Maxi, which is the long wheelbase.
The table below explains the features available in each of our Caddy designs.
VW CADDY FEATURES
Feeling the love for Micro Campervans?
We hope you found this blog post useful and it helps you feel closer to the possibility of making your own campervan dreams a reality.
If you're interested in getting a Micro Camper for yourself please do not hesitate to contact us. We'd love to hear from you.
You can out this short enquiry form or drop us an email at hello@lovecampers.co.uk
---
Check out our other blog posts:
Follow us on our Facebook and Instagram accounts for our latest news and posts!