Over the last few months, we've been working on an attractive micro camper conversion for Artist & Actress, Annabelle Davis and her partner Charlie. Annabelle found out about Love Campers via our Instagram page and by searching online for the rather unique offering of VW Caddy camper conversions.
When Annabelle realised that we like to do things a little differently at Love Campers, and that we specialise in creating handbuilt wooden interiors, she decided to get in touch! She came to visit our workshop in person and knew immediately that she wanted us to create her perfect micro camper conversion.
To our delight the lovely Annabelle and Charlie were more than happy to help us with our digital launch of our Love Campers Van Life Tales series, where we chat to our customers directly to find out how they make the most of their campervan experience.
Check out our video interview with Annabelle and Charlie below, where they tell us all about their exciting van plans and their favourite aspects of their micro camper conversion. Plus they take us on a tour of the finished product!
Watch the video
Interview with Annabelle & Charlie
We had a chat with them to get to know them both a bit better…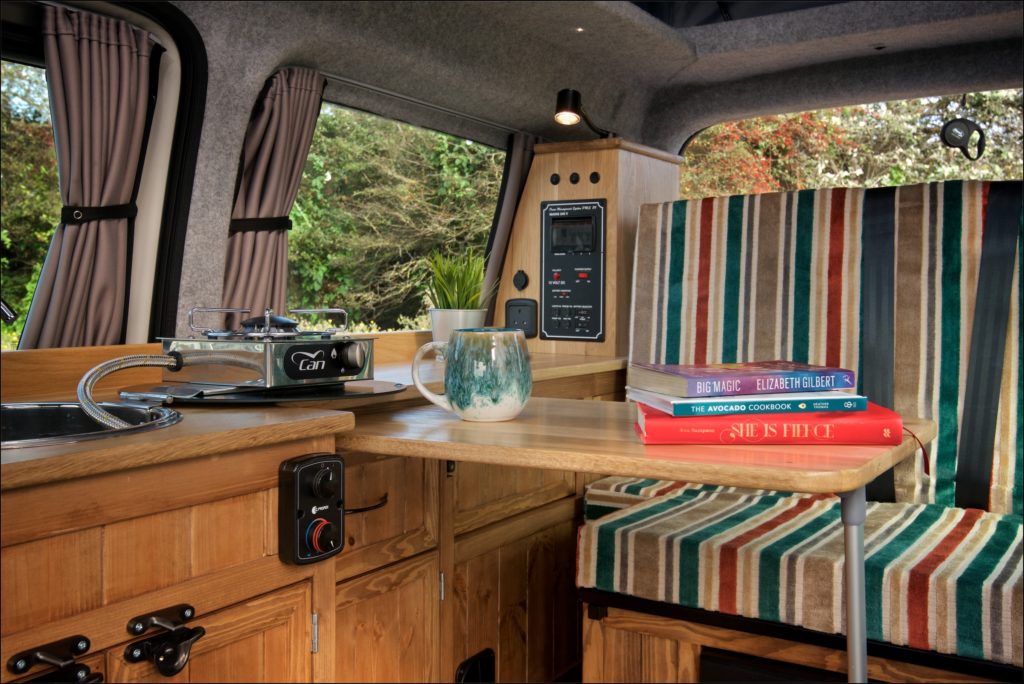 What inspired them to get a micro camper conversion?
Annabelle is an artist and actress, and Charlie is a photographer as well as producing music on the side. The talented pair decided to venture into van life, primarily to get out into nature and nurture their creativity.
Annabelle said,
"With lockdown I was thinking 'I want to get outside and get painting out and about… I thought, what better way than getting my own van."
With much of her childhood spent camping with her family, Annabelle already had the taste for spending time in the great outdoors. Her mum and dad already own a VW Camper and she felt inspired to do the same. They hope that their adventures in nature will inspire their current projects as well as encourage new ideas to flourish.
"We're creatives! I'm currently writing a children's book so I'd really like to get into writing more. I think with the van I'll be able to escape a bit more, so hopefully I'll get some inspiration from that as well."
Annabelle, who's the daughter of actors Warwick and Samantha Davis, spent much of her childhood going on family adventures.
"Growing up my parents and I were away all the time camping and caravanning all the time… Having grown up with that, it's made me want to go travelling myself."
However, with the pandemic holding her back for now, she realised that there was 'plenty to explore in the UK and Europe' and getting a campervan would open up the opportunities of travel to her and Charlie right now.
What made her choose Love Campers?
Annabelle kindly explained what drew her to our company specifically:
"I'd done a lot of research over the past couple of years about vans and companies that convert. Because I'd love to do it myself, but [issues with] time and physically it's a little more challenging…
I came across Love Campers and I saw the first picture on the homepage and I thought this is what I wanted to make. It's got so much character and warmth – it's everything that I would want to put into a van myself except without all the labour."
Annabelle felt like we were offering something a bit different to other converters on the market. Charlie noticed that the Caddy campers we converted looked more like a log cabin than the traditional campervan interior you see online.
Annabelle said:
"I found some companies but they all looked the same and I just wanted a bit more character and something fun."
Another aspect that appealed to her was that we mention on our website that we're more than happy and experienced at tweaking campervans to make them accessible. At Love Campers we are very passionate about accessibility and inclusion – we believe that beautiful accessible campervan experiences should be for everyone.
Annabelle knew that she wanted a campervan that worked well for her specifically:
"I wanted to be able to do the bed… I wanted to be able to do the roof! So I came and tried it all out and it's all so accessible. The worktop is like it's built for me."
Charlie said:
"You guys accommodated for that, like with the tap at the back and all these little extras. Other places just sell you a design and that's it, whereas you guys had other suggestions based on what we were thinking of."
Another element that appealed to both Annabelle and Charlie was the fact that they would be able to choose the exact finishes and overall look of their Love Campers van.
How did they find the personalisation process?
We know how important it is to our customers to have a customisable design so each van has that 'personal touch'. Annabelle and Charlie got to choose the colour scheme, fabrics, wood finish and other interior design elements.
Find out more about our customisation process on our website.
They said the following in regards to the customisation process:
"We have really enjoyed designing parts of it… When you get it you know it's yours because you've chosen everything. When you visit the workshop there's no van that's the same. Everything is very unique."
"There's a load of choices and we did mock-ups"
Charlie's amazing photoshop skills came in handy as he created mock ups of the different combinations. In the end they went for an earthy neutral palette as a base, with a beautifully bold pop of colour coming from their vibrant upholstery choice.
Why did they choose the VW Caddy?
The vehicle which is primarily owned by Annabelle and had pedal adaptations fitted so that she can drive it comfortably, will function as both a campervan, and as her everyday vehicle. With VW Caddy campers being so compact and easy to drive they make a great option for micro campers.
Annabelle describes why she loves the base van so much:
"…what's great about it is it's not a big van, it's still maneuverable and you don't feel like you're driving a tank everywhere. It's going to be my main car but have all the facilities of a little house."
Charlie added "Why buy a house when you can have a house on wheels!"
Opening up possibilities and making travel easier
Annabelle also mentioned how the campervan will make travelling easier for her in regards to her energy levels.
"For me I just want to travel but physically a long walk – I'll come back and I'm exhausted and I'll just want to come back to the hotel or whatever… whereas now we've got the van and we can have a little pit-stop and a bite to eat and we can go out again."
With their new campervan they're looking forward to indulging in a range of new hobbies and activities. They plan to go kayaking as well as visiting all the national parks the UK has to offer. In time, they're hoping the micro camper will take them further afield, to Scotland, Ireland and beyond. Most of all Annabelle describes how much she's looking forward to taking her artistry to the road…
"Creatively… I've always wanted to paint in a place. I've always been restricted to my studio… but now I'll be able to go to the Lake District, pull up at an incredible view and I can paint it in real life!"
Sharing their campervan news with friends at the 'Little People UK' event
Since signing up to the Love Campers build queue, Annabelle has been keen to share her van plans with her online followers to inspire them to do the same. She explained to us that she's part of an event called 'Little People UK' and she has been excited to tell people about the opportunities available to them.
"It's going to be great to be able to tell people there are options out there for you. A lot of companies aren't as open to customising and adapting bits but here, you guys build the bits, for example there's a longer strap for me for the bed"
What are their favourite parts of the van?
Their favourite parts of the van? Well, we're glad to hear there are lots of features they love!
"There are so many favourite parts… The upholstery…. the floor (which has a slatey texture)… the beautiful woodwork… the pop-top roof…the fridge!"
And last but not least, the specially lowered table for Annabelle to use for painting on the move, which Charlie is also eyeing up for serving cocktails!

"Outside there's a little table that Darren kindly put in, it's at my height and it's like a little bar! It's amazing. I can be sat outside and be painting and use it for my palette area, it's so useful and it's little things like that I wouldn't think of"
Charlie adds: "And I can do cocktails and pass them down!"
We think it's a great idea!
We wish Annabelle and Charlie many happy adventures in their campervan.
Follow them on instagram to keep up with their adventures, and keep an eye out for their new Art on the Road video series which will be on YouTube soon.
If you're interested in getting a micro camper conversion, or know someone who is, please do us a favour and share this video with them! 🙂
You can enquire about our current build queue by getting in touch with us at hello@lovecampers.co.uk